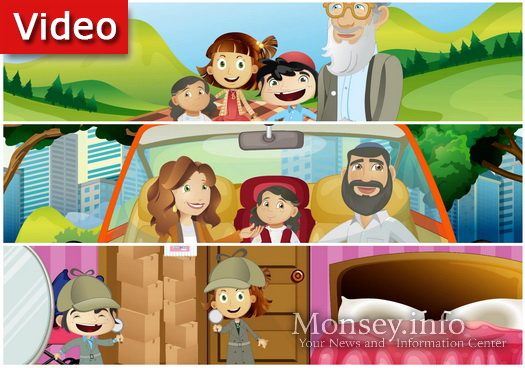 Almost three years ago producer and director, Chaim Hershkowitz sat down with Chanale Fellig-Harrel, the writer and composer of Bella Bracha to come up with an idea for the next video. "I wanted to do something that every young child could relate to and get excited about. My first pitch was about a new baby since that's always an exciting event for the family. Chanale recently had twin nephews so the idea evolved from there."
Unfortunately the DVD sales began to fall dramatically and the project was shelved. Over the last year as Toveedo.com began creating new and exclusive content for its website, the idea to complete Bella Brocha 3 started to become a reality.
Chanale explains "It does happen from time to time that a project that I've put my heart and soul into doesn't get produced. But this was too good to not produce so I constantly pushed until it came to fruition." Chaim agrees "This video was something extra special. The songs were all amazing and I knew we had a hit on our hands, but at the same time it was hard to validate the cost. Boruch Hashem Chanaleh never gave up and it's to her credit that this amazing project that she wrote, composed and recorded came to fruition.
Bella Brocha and the Twins will have your children spellbound and then singing with joy when they find out Bella Brocha's mother is having twins. Follow along as Dovid sings about having a special brother and all the cool things they will do together. You will laugh together with your kids when Bella Brocha's Mommy sings about cleaning her house.
BB3 has transformed into a musical, with songs that will make the whole family sing! Guaranteed to become a family favorite!
Now streaming on Toveedo.com