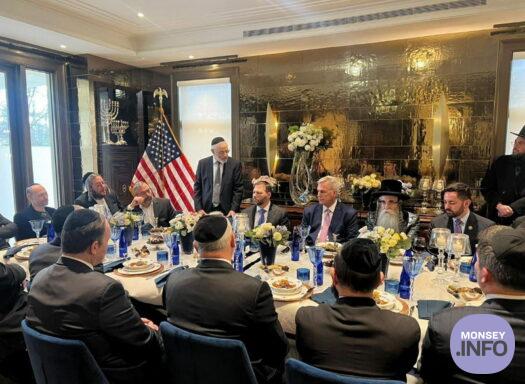 Speaker McCarthy and Congressman Lawler Visit Rockland Jewish Communities
House Speaker Kevin McCarthy toured Jewish communities in Monsey and New Square Sunday, where he, along with Rep. Mike Lawler, attended a fundraiser. McCarthy and Lawler were also received by the Skverer Rebbe, and Jewish community leaders.
When McCarthy last visited the village in November and asked for the endorsement of Lawler for Congress, the Rebbe explained that they were indebted to his opponent Democratic Rep. Sean Patrick Maloney, who had helped the community in the past. Although he was unsuccessful at the time in securing the endorsement for Lawler, he nevertheless assured the Rebbe that he would return and be a friend to the Jewish community.
"Speaker McCarthy kept his word and he reached out the us to arrange for this meeting," Rabbi Izzy Spitzer, the Mayor of New Square told Hamodia. "He spoke emotionally about how he is a friend of the community, and how he will push for the passage of Parental Rights in Education Act which will give parents greater say in their children's education.
"Last time he came, it was after nightfall, but this time it was in the middle of the afternoon, and hundreds of children and residents of the village came out to greet him. He was overwhelmed by the reception, and asked if he could take a picture of the crowd.
"When he and Mr. Lawler spoke later with the Rebbe, they expressed their appreciation of the Jewish community, and the Rebbe, whose influence is felt beyond the confines of the community, spoke with McCarthy and Lawler about the needs of the larger Jewish community. It was a positive meeting, and the Rebbe then spoke privately with the two congressmen.