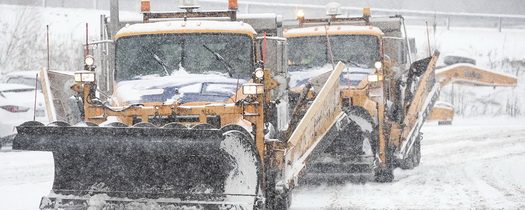 Credit: Mike Groll/Office of Governor Andrew M. Cuomo
Winter Weather Advisory issued for Friday, January 7th, Reminder Not To Park on the Road Overnight
by Monsey.info
The US National Weather Service is predicting 3 – 5 inches of snow Rockland County late tonight into the early part of the day on Friday.
While this storm is not abnormal, extensive preparation is under way throughout Rockland County.
The Rockland County Highway Department and municipalities have pre-treated county roads with salt brine and has trucks ready to go as soon as the snow starts.
"Please stay off the road tomorrow and if you must travel use caution. Give our plows and drivers the room they need to do their jobs safely," the Rockland County government wrote.
Other preparations include reminders that people not park their cars on the road. Parking on any streets, roads and highways of the town between the hours of 12:00 midnight and 6:00 a.m. which is otherwise permitted is prohibited during the period from November 15 to April 1.
The purpose of the law is to ensure the roads are free of parked cars. Those vehicles left on the roads overnight create a hazard to the plow trucks trying to clear the streets of snow and ice.