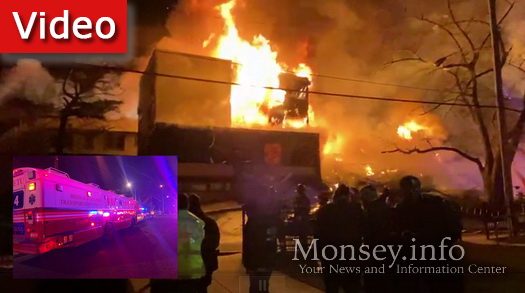 UPDATED 11:30AM: Massive Fire Burns Out of Control At Evergreen Court Assisted Living in Spring Valley, Fatalities Reported
by Monsey.info
A massive blaze continues to burn out of control at an assisted living in Spring Valley, Tuesday morning, with some residents left unaccounted for.
The fire was reported at approximately 1:30am, and brought multiple fire departments rushing to the scene.
The fast moving blaze quickly overwhelmed the available resources, spreading through the massive facility.
Hatzoloh of Rockland County as well as Rockland Chaverim also responded, treating many for burns and at least one fatality.
Many of the elderly residents were evacuated by local school buses early on, with many still unaccounted for.
As of 7:00am, a report indicated that the fire was burning out of control, 105 residents accounted for, and at least 4 unaccounted for.
As of the report, one firefighter had called a Mayday, but was extracted from the fire and transported to the hospital. Six residents have since been taken to the hospital, with at least one in cardiac arrest.
Firefighters from as far as New York City have responded to assist in fighting the fire.
Update 9:15am: Rockland Fire Chief Reports one firefighter unaccounted for at the fire.
Update 11:30am: Rockland Fire Chief reports heavy equipment being used to sift through the debris. One firefighter and at least one resident remain unaccounted for.