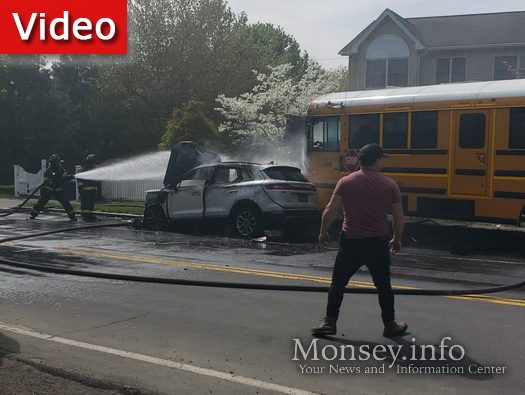 School Bus Loaded With Children Involved In Crash, Catches
by Monsey.info
A Jewish school bus involved in a crash in Rockland was damaged after the car caught fire Thursday afternoon, sending six people to the hospital.
The crash took place around 3:20pm Thursday afternoon on Saddle River Road between Andrew Dr. and Keith Dr. according to the police, when the car collided with the front of the bus, pushing its nose onto the sidewalk.
First responders noting that the car looked like it was about to catch fire, which it did just moments later.
Despite the quick response by the firefighters, the car was engulfed in flames, which caught onto the front end of the school bus as well.
Hatzoloh responded, and six patients were transported to the hospital. There has not been any word yet on their conditions.